Local Attractions in Stockholm
Discover the best of Stockholm nearby!
At Hotel Birger Jarl, you're close to great restaurants, fashionable shopping and inspiring nightlife. Stockholm's 57 bridges connect 14 islands, which may make getting around seem complicated, but you'll discover that this is actually an incredibly integrated and surprisingly compact city. You'll love the enticing mix of old-world history and modern energy that makes this such a great place to explore.
Hotel Birger Jarl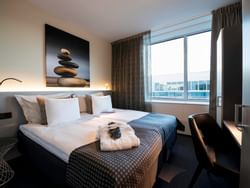 At Hotel Birger Jarl, we promise our guests a welcoming atmosphere and genuine consideration. Our modern hotel in Stockholm City Centre is more than just an upscale business hotel. We routinely go above and beyond – for our guests and for those in need. All profits from our hotel go to our owners, Immanuel Church, who in turn help underprivileged groups through various partnerships and charity projects around the world.